Onlangs verscheen het derde album van de Zweeds/ Duitse hardrockband Lucifer, toepasselijk III genoemd. Wij van Amped Up hadden naar aanleiding daarvan een interview met frontvrouw Johanna Sadonis.
Hoewel Lucifer pas bestond vanaf 2015, heb je al een lange geschiedenis achter de rug. Begon in Berlijn en verhuisde daar naar Stockholm. Was dit nodig om de band in leven te houden?
Ik ben naar Zweden verhuisd omdat Nicke (Andersson, drummer) en ik samen een relatie hadden en getrouwd zijn. Nu bestaat de hele band uit mensen die in Stockholm wonen, wat alles logistiek een stuk eenvoudiger maakt.
Wat spreekt je aan bij bands als Black Sabbath, Fleetwood Mac, Deep Purple. Zijn die bands ook de reden dat jullie muziek klinkt als rock uit de jaren 70?
In de jaren 70 was rockmuziek zoals we die kennen op zijn hoogtepunt. Tot op de dag van vandaag is het nog nooit zo goed gedaan. In mijn ogen is er vandaag geen enkele band die in de buurt komt van wat groepen als Sabbath, Purple en Fleetwood Mac hebben gedaan.
Op je facebookpagina omschrijf je het genre als heavy magic metal. Heeft dit ook te maken met de jaren 70, de hippietijd en zo?
Voor zover ik weet stond er nooit heavy metal. Lucifer is een klassieke hardrock- of heavy rockgroep.
U bent het enige originele lid van Lucifer, hoe komt het dat er zoveel personeelswisselingen zijn?
In een leven gebeurt er veel. Robin werd bijvoorbeeld vader en kon niet jongleren met fulltime werk en een baby met ons drukke tourschema. Alex vertrok omdat hij een burn-out had en zijn dokters vertelden hem dat hij moest stoppen met toeren en werken. Zo is het leven …maar het leidde wel tot de incarnatie van Lucifer van vandaag. De groep staat nu aan de top van zijn kunnen.
Op Lucifer III hoor je een band die goed op elkaar is afgestemd. Heeft dit ook te maken met het feit dat Johanna en Nick nu een koppel zijn?
Dank je. Nicke en ik zijn een goed schrijfteam. Het verloopt gewoon heel gemakkelijk. Ook de band als geheel toert de afgelopen jaren veel en dat maakt een band sterker en samenhangend.
Ook op dit derde album hoor je dat de nummers wat zwaarder zijn. Een bewuste keuze of misschien invloed van de nieuwe bandleden?
Nicke en ik schrijven de liedjes en produceren samen, dus het is altijd aan ons hoe de songs klinken, omdat we altijd de liedjes eerst onder ons componeren. Onze gitaristen Martin en Linus brengen hun kenmerkende speelstijl in wanneer we het materiaal naar de studio brengen om op te nemen. Ik denk niet dat 'Lucifer II' minder zwaar is dan 'III'. Ik zie het nieuwe album meer als een voortzetting van 'II', waarbij ik dieper inga op de teksten.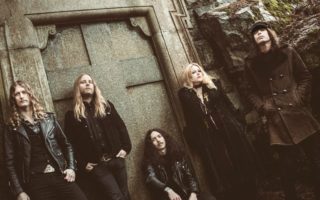 Het tweede album was erg populair, vooral in Zweden, waar je ook genomineerd was voor Best Hard Rock / Metal album en Hardrock / Metal act. Wat is de reden voor de populariteit van Lucifer in Zweden?
Dat is moeilijk te zeggen, maar voor mij voelt het alsof Zweden vooral een zwak heeft voor rock die op de klassieke manier is gemaakt. Zweden is een muziekland. Er wonen hier niet veel mensen, maar wel een heleboel geweldige bands.
Zowel het tweede als het nieuwe album zijn in band The Honk Palace opgenomen door bandlid Nicke. Is dat om praktische redenen of om andere redenen?
Nicke en ik hebben onze eigen studio op ons terrein waar we precies kunnen opnemen hoe we willen, wanneer we willen en praktisch gratis, wat een geweldige luxe is. Ik weet dat het voor ons een goed idee is. We zijn fanatieke doe het zelvers en we zijn er dol op!
Lucifer heeft al mooie festivals en optredens op zijn palmares, denk maar aan de KISS Kruise, Desertfest, Las Vegas, … Is er één optreden / festival met bijzondere herinneringen?
Nu je toch de KISS-cruise noemde, dat was behoorlijk indrukwekkend. Martin speelde tafeltennis met Ace Frehley. Ik speel in het algemeen graag op festivals. Je komt vrienden en leeftijdsgenoten tegen, wat altijd erg leuk is.
Was het makkelijk om dit album te maken? Omdat je in 2019 een nogal druk tourschema had en daarna een personeelswisseling.
Nee, het was een makkie om III te maken, omdat we tussen tourdata thuis konden opnemen. Ja, onze bassist Alex vertrok, maar Nicke speelde de bas op Lucifer III, net zoals hij deed op Lucifer II.
Wat brengt 2020, tournee, festivals?
Wegens de viruscrisis zijn al onze festivalshows helaas uitgesteld tot 2021, maar hopelijk vertrekken we in november naar Europa, als alles volgens plan verloopt.