Yagow is een psychedelisch spacerocktrio gevestigd in Saarbrücken, Duitsland en presenteert een eclectische mix van psychedelische rock, kraut, garage rock en stoner rock.
De bovenaardse klanken van psychedelische Yagow krijgen een nieuwe wending op zijn tweede album The Mess. Door de resonerende riffs van The Black Angels, Kyuss, True Widow, Spacemen 3 te combineren met de feestelijke sfeer van Dead Skeletons zet Yagow een tijdloze sfeer neer die je wegvoert van de bemoeienissen van het dagelijks leven en naar een hogere geest brengt.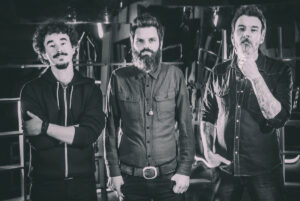 Ook al heet het album The Mess en is dit ook de titel van de openingstrack, van chaos is eer op deze plaat totaal geen sprake. Alles komt gestructureerd over en met oog voor details. Openingstrack The Mess start met sitargeluiden en eens de track op gang komt krijgen we direct een zweem van de jaren 60 over ons heen, Hippie en Flower Power zijn twee woorden die de boel zouden kunnen omschrijven. Doomed To Fail geeft ons een ander inzicht op de psychedelische gedachtegang van Yagow. Iets trager en logger dan het vorig nummer.
De track die het album moest aankondigen is Rise & Shine. En hoewel de muziek vrolijk overkomt, is het thema wel degelijk doordacht. Het nummer gaat over het al dan niet bewust aannemen van bepaalde rollen binnen onze kapitalistische samenleving die van ons worden verwacht en over hoe we gesocialiseerd zijn om ze over te nemen en die façade te perfectioneren. Bloom heeft die zware gitaarriffs die we ook nog kennen van Kyuss. Tres Calaveras is een relatief traag nummer over een reis naar Argentinië en aan het nummer te horen moet die een lange trip geweest zijn.
Electric Electric doet mij heel erg denken aan een band uit de jaren 90, namelijk 16 Horsepower. Niet alleen leunt de stem van Kai Peifer zeer dicht aan bij David Eugene Edwards (16 Horsepower) ook de muziek vertoont op bepaalde vlakken overeenkomsten. Getting Through – Is This Where The Magic Happens? mag als afsluiter ons nog eens extra desoriënteren. Niet alleen is dit met zijn 9.33 minuten het langste nummer, we krijgen ook zowat alle ingrediënten die Yagow rijk is gepresenteerd. Van logge desert stoner naar space rock, gekruid met wat psychedelische invloeden die van deze track (en misschien wel van het volledige album) een ware kermis maken.
Yagow neemt je op The Mess mee op een rit door een woestenij in de woestijn in een grote oude roestbak van een auto, met een zonnebril op en je hoofd dobberend op de muziek van de hobbels in de weg. Yagow zette een tijdloze sfeer neer die je wegvoert van de bemoeienis van het dagelijks leven en in hogere geesten.
Tracklist
The Mess
Doomed To Fail
Rise & Shine
Bloom
Tres Calaveras
Electric Electric
Getting Through – Is This Where The Magic happens?