Precies 1 jaar geleden bracht post-metalband Turpentine Valley z'n debuutplaat Etch uit op Dunk!Records. De plannen om die verjaardag met een aantal zelf opgezette liveshows te vieren, vielen om voor de hand liggende reden in het water. Maar in plaats van bij de pakken te blijven zitten, dook de band de Dunk!Studios in voor een livesessie van enkele nummers op die plaat. Met Compromis wordt een eerste video daar uit op je losgelaten.
"Natuurlijk spelen we liever voor een live publiek," klinkt het bij drummer Roel Berlaen, "maar deze opnamesessie was in deze bizarre tijden een welkome kans om onze liveset nog eens af te stoffen."
Het idee ontstond toen duidelijk werd dat het oorspronkelijke 'verjaardagsoptreden' naar aanleiding van 1 jaar Etch niet zou kunnen plaatsvinden. En dus dook Turpentine Valley op uitnodiging van Dunk!Records de studio in om de set van die avond gewoon live te gaan opnemen. Ook Mantis en Stories From The Lost (beide bands stonden ook op de affiche voor die show) deden dat. Van hun livesessies verschenen eerder al videos online naar aanleiding van de release van hun beide nieuwe platen, die vorig najaar uitkwamen op Dunk!Records.,
"Onze debuutplaat Etch kwam uit eind 2019, we speelden een 6-tal shows om de plaat te promoten … en toen kwam de lockdown," blikt Turpentine Valley bassist Thomas Maes op een bewogen jaar terug. "Tientallen shows en enkele festivals zagen we door corona door onze neus geboord. En dus kregen we amper de kans om met onze plaat de hort op te gaan en zoveel mogelijk zieltjes te winnen voor onze muziek."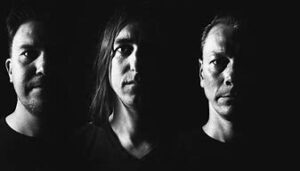 Kristof Balduyck (gitaar): "Van de gelegenheid maakten we wel gretig gebruik om nieuwe nummers te schrijven en daarvan demo's op te nemen. Die zijn we momenteel aan het finetunen om snel weer de studio te kunnen induiken."
O ja, de Dunk!Night met Mantis, Stories From The Lost en Turpentine Valley kreeg intussen een nieuwe datum: op 3 juli 2021 vindt de uitgestelde show alsnog plaats in JH Knipperlicht in Zulte. Met nog meer goesting en nog meer decibels dan ooit tevoren.