Het is dertig van jullie aardse 'jaren' geleden sinds Lords en Masters GWAR, wat velen beschouwen als het carrièrebepalende album van de band Scumdogs of the Universe, uitbrachten. Om deze gedenkwaardige gelegenheid te vieren, onthult GWAR met genoegen 30-jarig jubileumversies van Scumdogs of the Universe. Het album is volledig geremixet en geremasterd door Ronan Chris Murphy en klinkt zoals de Scumdogs bedoeld hadden om het te horen! Tot zover de officiële uitleg.
Scumdogs of the Universe is het tweede album van de satirische shockrockband Gwar. Het album is hun eerste album op Metal Blade Records en werd uitgebracht op 8 januari 1990. Tot op heden is het best verkochte album van de band. En na dertig jaar proberen ze het nog eens over te doen.
.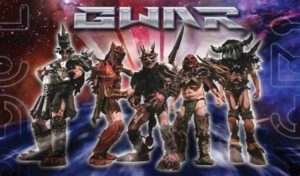 De tracks op deze remasterd en remixed album zijn allemaal hetzelfde met enig verschil de volgorde en de verfijning van de nummers. Met als grote uitzondering King Queen die van 4.51 min naar een versie van 8.09 minuten gegaan is. Voor de rest is dit, net zoals zijn oorspronkelijke versie, nog altijd een conceptalbum dat in grote lijnen het verhaal vertelt hoe deze doldwaze aliens hier op aarde beland zijn. Death Pod vertelt dit verhaal perfect. En Slaughterama vertelt het verhaal van op een speelse manier nazi skinheads en hippies een kopje kleiner te maken. Het overgrote deel va de nummers gaan trouwens over flauwe grappen, experimenteel medische projecten en seksuele perversie. Verder is er aan dit album niets veranderd. De gastvocalen zijn identiek dezelfde als op het origineel. Afsluiter Cool Place To Park wordt nog steeds ingezongen door bassist Beefcake The Mighty.
Om nog even de roze ballon te doorprikken waar deze weirdo's in leven het volgende: de landingsplaats waar Gwar in 1984 landde was Richmond, Virginia. En alle bandleden nemen, als ze niet moeten optreden, een menselijke gedaante aan. Zo is opperhoofd Oderus Urungus beter bekend als Dave Brockie en Balsac the Jaws Of Death Mike Derks. Niets is deze wezens vreemd. O ja, nog een tip voor het geval dat u een Gwar-optreden zou willen bijwonen. Gwar zit vol met over-the-top gewelddadige, seksuele en scatologische humor die typisch sociale en politieke satire bevat, en Gwar heeft zowel bijval als voor zijn muziek- en toneelvoorstellingen, waarvan de laatste notoire uitvoeringen van grafisch geweld laten zien die resulteren in dat het publiek wordt besproeid met grote hoeveelheden nepbloed, urine en sperma. Dergelijk optreden leidt er regelmatig toe dat Gwar door de media wordt bestempeld als een "shockrock" -band.
Tracklist
The salaminizer
Maggots
Sick Of You
Vlad The Impaler
Slaughterama
King Queen
Horror Of Yig
Loive Surgery
Sexecutioner
The Years Without Light
Black and Huge
Death Pod
Cool Place To Park