Dat de Duitse symfonische femalefrontedband Beyond The Black aan een razend tempo bezig is met zijn plaats te veroveren in de metalwereld wordt stilaan een feit. De band is ppgericht in 2014 rond frontvrouw Jennifer Haben. en In datzelfde jaar mogen ze hun livedebuut doen op Wacken Open Air, waarna er nog tournee kwam met Saxon, Queenrÿche, Within Temptation en Scorpions, om er maar een paar te noemen.
Na hun schitterend vorig album, Heart Of The Hurricane, was de spanning groot naar hun nieuwe worp Horizons. Die angst blijkt ongegrond, want ook bij dit nieuw album stijgt BTB opnieuw een trede op de ladder naar de top. Met het invoegen van meer popgevoeligheid in metal krijg je natuurlijk een genre die een breder publiek kan aanspreken.
Maar op naar het nieuwe album van Beyond The Black, dat opent met de titeltrack Horizons. Een track die een beetje mysterieus opbouwt om dan los te barsten in een stijl die we mogen verwachten voor de rest van het album. Misery is het nummer dat als eerste single het album vooruitging. Een mooie mengeling tussen metalfragmenten en melodieuze passages, allemaal mooi bij elkaar gehouden door de kristalheldere stem van Jennifer. BTB heeft ook een paar gasten uitgenodigd: op Wounded Healer is dat Elize Rhyde van Amaranthe. Eveneens de band waarmee BTB trouwens in het najaar op tournee trekt en die op 15 november in de Antwerpse Trix een Belgische tussenstop maakt.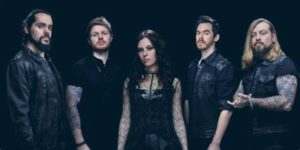 Op I Won't Surrender is dat Tina Guo, een Chinese/Amerikaanse celliste, die deze track steun geeft. De onmisbare ballade op een album is dan ook meteen een feit. Wie bij Some kind Of Monster denkt aan Metallica is er aan voor de moeite. Buiten de titel is er dan ook geen enkele vergelijk. In tegendeel, dit nummer is klaar om de hitlijsten te bestormen. In Golden Pariahs horen we zelfs elektronische invloeden. Iets wat nog meer wordt toegepast in You're Not Alone. Afsluiter Welcome To My Wasteland is misschien nog wel de hardste track van het album. Een nummer dat een paar luisterbeurten nodig heeft om te blijven plakken. Zo heb ik ze persoonlijk liever dat nummers die direct in het hoofd kruipen en een tijdje blijven nazinderen.
Hoewel op de cover van Horizons driemaal Jennifer staat en zij de bandnaam bezit is dit zeker geen soloproject. Samen met Stefan Herkenhoff (bas), Chris Hermsdörfer (gitaar), Tobi Lodes (gitaar) en Kai Tschierschky op drum is Beyond The Black een band die stevig aan de boom van de symfonische metal aan het schudden is. En dat bewijst hun nieuw album Horizons dan ook in overvloed.
Tracklist:
Horizons
Misery
Wounded Healer
Some Kind Of monster
Human
Golden Pariahs
Marching On
You're Not Alone
Out Of The Ashes
Paralyzed
Coming Home
I Won't Surrender
Welcome To My Wasteland