Maudits is een nieuwe naam in de metalscène, opgericht in 2019 door leden van Throane, Ovtrenoir en ex-leden van The Last Embrace. Beïnvloed door doom, post-rock, progressief en ambient stellen zij hun eerste titelloze album voor. Deze Franse instrumentale progresieve stonerband bestaat uit gitarist Olivier Dubuc, drummer Christophe Hiegel en Anthony Gillet neemt de baspartijen voor zijn rekening.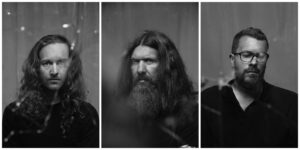 Zes nummers telt dit album en het is altijd een verdomd moeilijke opgave om met instrumentale muziek de aandacht van uw publiek erbij te houden, zeker bij een liveuitvoering. Zoals het genre het een beetje eigen is, zijn er hier ook bij deze progressieve band veel tempowisselingen. Perfect te horen bij de eerste twee nummers, Maudit en Résilience. Van harde stoner tot zweverige introverte passages. En dat allemaal met nummers die, zoals Maudit ruim 13 minuten, toch wel extreem lang zijn om dit boeiend te kunnen houden.
Liminal is zo een 5,11 minuten lang zweverig kalm, hypnotiserend nummer. Misschien mede doordat de kunstenaar Dehn Sora er zijn medewerking heeft aan verleend. Deze persoon kennen we ook van zijn andere project Treha Sektori en voor wie deze mens al bezig heeft gezien, weet waar hij zich mag aan verwachten (optredens bij Amenra en Church Of Ra). Grain Blanc trekt het tempo terug de hoogte in en is ondanks zijn ruim zeven minuten speeltijd, geen seconde saai. Een nummer dat de aandacht blijft vasthouden.
Solace vervalt dan weer terug in een dromerige en zeer rustige stijl. Bijgestaan door de violen van Caroline Bugala is dit ongeveer het enige wapenfeit dat we over dit nummer kunnen vertellen. Of toch, dit is het kortste nummer van dit album (4.49 min). Afsluiter is een nummer met een Vlaamse titel, Verloren Strijd. Een track die nog een laatste maal alle genres die ze aanboren aan bod laten komen. Om dan het maar te laten voor wat het was, een verloren strijd.
Hun invloeden hebben ze gehaald bij bands als Godspeed You Black Emperor, Russian Circles, Opeth en Mastodon. Maar zoals eerder al vermeld is het een moeilijke opgave om als instrumentale band de aandacht van het publiek erbij te houden. Waag je dan nog eens op het ambient en progressieve pad, ja dan leg je de lat wel heel hoog natuurlijk. Ideale muziek om op een zondagnamiddag in uw luie zetel naar te luistern maar live, vrees ik, een beetje moeilijk om hierbij een uur naar te staan kijken.
Tracklist:
Maudit
Résilience
Liminal
Grain Blanc
Solace
Verloren Strijd