Dee Snider voorstellen is misschien verloren moeite en verspilling van woorden, maar voor degene die toch ergens lang op een onbewoond eiland vertoefd hebben geef ik toch graag een kleine introductie:
Dee Snider (geboren als David Daniel Snider op 15/03/55) heeft in zijn leven al heel wat watertjes doorzwommen. Naast auteur, acteur en radiopresentator heeft Dee ook een show op Broadway gehad. Ook was hij één van de spilfiguren in een spraakmakend proces in 1985 ivm verderfelijke invloed van muziek op jongeren. Maar dat speelt zich allemaal in Amerika af. Bij ons is Dee het bekendst als de frontman van de veelkleurige bende genaamd Twisted Sister. Toen deze band er een jaar of vijf geleden ermee ophield besloot de heer Snider om solo verder te gaan onder zijn eigen naam en met eigen werk. Uiteraard zit het verleden van Twisted Sister hierin ook verweven.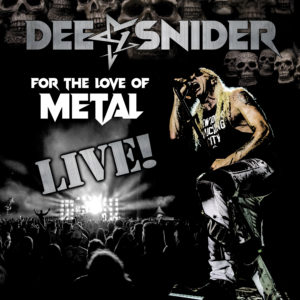 In 2018 bracht Dee het album For The Love Of Metal uit. Nu twee jaar later verschijnt een livealbum van de tournee die volgde op het album. Met de toepasselijke naam For The Love Of Metal Live. Een registratie van optredens op verschillende festivals. De setlist omvat een mooi overzicht van de carrière van Dee Snider. Uiteraard krijgen de nummers uit zijn laatste album een prominente rol. Lies Are a Business, Tomorrow's No Concern, American Made, Become the Storm, I Am the Hurricane en (één van de bonustracks) Roll Over You zijn mooi verdeeld over de set
De nummers uit de Twisted Sister-periode zitten strategisch verdeeld over het optreden. Kwestie van niet al te veel fans te verliezen die het nieuwe werk niet kennen of liever het oudere werk horen. Zo krijgen The Beast, Burn In Hell en publiekliefhebbers I Wanna Rock en (voor wie al op een optreden van Twisted Sister aanwezig was) het eindeloze uitgesponnen We're Not Gonna Take It. Alle vier uit het in 1984 verschenen Stay Hungry. Uit de voorloper van Stay Hungry uit 1983, You Can't Stop Rock 'n' Roll, de tracks You Can't Stop RnR en The Kids Are Back. Met Under The Blade krijgen we een nummer uit het gelijknamige debuutalbum van Twisted Sister. Bonustracks The Fire Still Burns (Come Out And Play 1985) en Ready To Fall (van de band Widowmaker (1991), de band waaruit Twisted Sister gegroeid is) vervolledigen de setlist.
Twee nummers ontbreken nog aan dit lijstje. De AC/DC-cover Highway To Hell en afsluiter Prove Me Wrong. Een spiksplinternieuw nummer waarop Dee zichzelf een beetje bejubelt. Altijd al een ijdeltuit geweest, onze Daniel. Een uptemponummer zoals we die gewend zijn van deze man. Beetje Motörhead-invloeden, energiek met een paar sterke gitaarsolo's en indringende baslijn.
Wat mag je verder nog verwachten van deze liveplaat? Dat de frontman een spraakwaterval is en zijn publiek goed kan bespelen. Voor wie graag beelden ziet bij dit optreden is er ook de dvd/Blu-Ray, met extra bonusfragmenten, een blik achter de schermen, interviews en tal van verrassingen zitten. Kortom interessant materiaal voor de fans. Of zoals Dee Snider het zelf zou verwoorden: Prove Me Wrong.